Emma Span's Jose Reyes ebook: Writing a bestseller in under a month
The top-selling baseball book on Amazon.com is an ebook, a Kindle Single by Emma Span called "An Arm and a Leg". It's about whether the New York Mets should trade Jose Reyes before he becomes a free agent at the end of this season.
If that sounds like more of a topic for a magazine article than a book, that's because it is. That's one of the great things about ebooks. They allow writers to sell such pieces directly to readers, without having to go through a publication. "An Arm and a Leg" is yours for 99 cents. As Span says she's grown fond of saying, it doesn't cost any more than a pack of gum or a soda.
Span, a part-time editor for The Daily as well as a busy freelance sportswriter, told me by email that the book was assigned to her by Dave Blum, the Kindle Singles editor, who was Span's editor when she wrote sports for the Village Voice in 2006-07.
"He called me up about a month ago and asked if I'd like to write something about Jose Reyes," she wrote. "I said sure, because writing about Reyes is fun and I wanted to work with him again, and I was curious about how the whole Kindle Singles thing worked. The only real guideline, topic aside, was it had to be over 5,000 words."
That sounded like a relative piece of cake to Span, who last year published her first paper-and-ink book, "90% of the Game Is Half Mental: And Other Tales From the Edge of Baseball Fandom."
Blum wanted the ebook up before the July 31 non-waiver trading deadline, which only gave her a few weeks. She says ESPN's Buster Olney reported that the Mets did not want to trade Reyes one week before her deadline.
Even now, four days after the trade deadline, with Reyes very unlikely to be moved, "An Arm and a Leg" is Amazon's bestselling baseball book, ahead of "Moneyball" — various editions of which take up four of the top 10 spots — and bios of Derek Jeter and Stan Musial. It's No. 12 on the Kindle Singles bestsellers list.
"The fact that it was an assigned piece helped a lot," Span wrote by email. "They took care of the cover, and gave it good placement on the site when it was published, and without that I'm sure it would have been much harder to bring it to people's attention. So I had a lot of help there."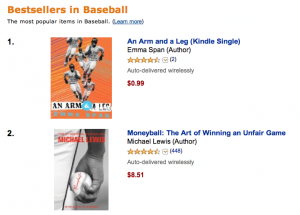 She says her editor recommended the 99-cent price, though she was free to charge as much as $2.99. "It makes sense to me," she wrote. "It's much easier to convince people to spend less than $1 than anything over it — for proof, just see some of the crap I've bought on iTunes." She gets 70 percent of sales, with Amazon taking 30 percent.
"An Arm and a Leg" has sold "fewer than you'd think, but more than I expected," Span wrote. "Financially it's not quite successful yet, based on the fairly arbitrary benchmark I set for it, but I do expect it ultimately will be."
I asked her what it was like to look at that bestsellers list and see her book sitting above Michael Lewis' classic.
"I know it won't last long, but being No. 1 in baseball, however briefly, really is pretty awesome," she wrote. "I took a screenshot and emailed it to myself with the subject 'this actually happened.'"