Mark Cuban's Skip Bayless smackdown: Listen up, sports media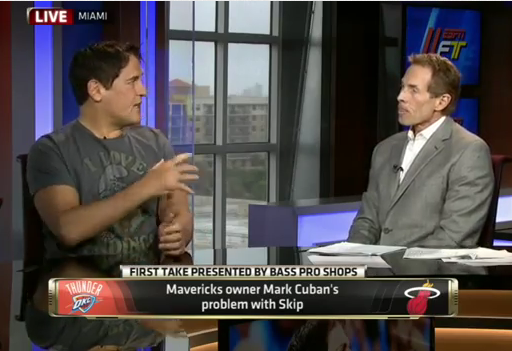 Mark Cuban's takedown of Skip Bayless on "First Take" Friday morning is great fun to watch for the many who love to hate ESPN's chief blowhard, but there's a pretty good journalism lesson to be learned from the clip.
The best and most interesting analysis happens when we deal with facts and specifics, not generalities and vague arguments that are impossible to prove or disprove.
Cuban smacks Bayless and "sports media in general" for speaking in "complete generalities," such as Bayless' views that the Miami Heat beat the Oklahoma City Thunder in the NBA Finals because the Heat wanted to win more, or that the Dallas Mavericks beat the Heat last year because LeBron James "disappeared and shrank in crunch time."
As the Mavericks owner points out, these are viewpoints that can't be contradicted. How can anyone prove that, no, the Thunder wanted to win just as much as the Heat did?
Cuban pleads for substance. When Bayless points out that "all [James] did was stand on the perimeter" in the fourth quarter last year, Cuban asks, "How do you think we defended that? Why do you think he was standing out there?"
Now, one can point out that Cuban is just as guilty of trading in generalities by saying he's talking about "the media in general," which of course does sometimes dig into the substance of games and dissects schemes and strategies. Not everyone is Skip Bayless, after all.
Then again "the media in general" may have just been Cuban's polite way of saying "you and people like you" to Bayless.
After Cuban asks Bayless how he thought the Mavericks defended LeBron, the two men had this exchange:
Bayless: You didn't have to defend him.

Cuban: Oh, right. So no matter what we did, he was just going to stand there and do nothing.

Bayless: That's all I saw. That was a lot of it.

Cuban: That's exactly right, Skip. That's all you saw. You didn't look.
At this point, Jay Crawford jumps in and does some actual journalism, a kind of shocking thing in this milieu. He asks a good question designed to elicit actual information. He says, "What did you do to force him out there?"
Can you imagine Bayless asking such a question? I'm not a regular viewer, but I took an informal poll of my co-workers, and those who do watch Bayless regularly mostly agree he doesn't ask questions designed to add information to the discussion. He asks questions designed to confirm whatever he believes.
Crawford's question launched Cuban into an interesting rundown of the Mavericks' defensive scheme against LeBron in last year's Finals. A transcription note: I've omitted Cuban's verbal tic of adding "right?" to the end of most sentences:
We had like six, seven different types of matchups in our zone, and we played man to man, and we had a variety of different switches. So we knew that 90 percent of his shots were going to come from the left-hand side. We knew that if you gave him room from the left, he was going to drive. We didn't have the athletes that Oklahoma City did, so we had to plan differently.

So we needed to make sure that we pushed him out away, and then we gave him different looks every time he had the ball, because just forcing him to make a decision, to think about what he had to do, taking the time to read—are we in a zone? What type of zone are we in? How are we matching up? What type of rotations are we in? Making him think made them pass the ball around the perimeter, which gave us a chance to adjust … LeBron actually played it right more often than not. He made the right pass to the right guy, who didn't make the right play.
Now, Cuban is a basketball owner, not a coach, so his take on the X's and O's should not be considered the final word on the subject. He is a smart guy who knows his business, though, and it's not unreasonable to think his take on the game is at least as informed as that of your average sportswriter.
It's far more interesting than the squishy analysis of Bayless psychoanalyzing people he doesn't know through a TV screen.
There's a lesson there for "the sports media in general." What happened and why it happened are a lot more interesting than guesses about the psychological and emotional states of the athletes.