Detroit writers meet-up: Dec. 6 at Dick O'Dow's in Birmingham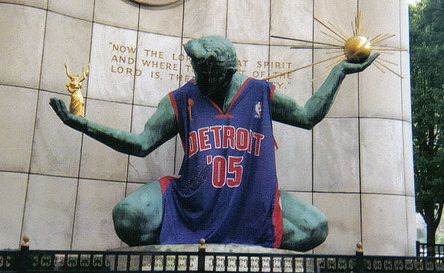 Detroit Bleacher Report writers: We're finally coming your way.
The Detroit meet-up will be Thursday, Dec. 6, at Dick O'Dow's Irish Pub, 160 West Maple Road in Birmingham.
Joel Cordes, NBA assistant editor and former Sportswriting Internship feedback editor, will be your host, along with B/R Community Manager Andrew Kulha. Joel and Andrew are two of the best guys at Bleacher Report to talk to if you're a B/R writer who's trying to get ahead. They know their stuff.
If you're in or can get to the Detroit area, stop by for some sports talk, B/R swag, and food and drink on the Bleacher Report tab. Get to know your fellow writers, and let Joel and Andrew know how B/R can be a better place for you.
We need to know how much food to order, so RSVP in the comments, or by emailing Joel or me.
* * *
Photo: Spirit of Detroit wearing a Pistons jersey during the 2005 NBA Finals. By Femaletrumpet02 / Flickr Creative Commons