Featured Columnist of the Month: Injuries writer Dave Siebert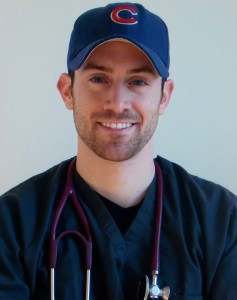 Like many a sports fan, Dave Siebert spent plenty of time obsessing over the health of both his favorite athletes and those who were on the rosters of his fantasy teams.
Unlike many sports fans, though, Siebert—Bleacher Report's Featured Columnist of the Month for March—is busy parlaying those interests into what promises to soon be a flourishing career in the medical field.
"With my fantasy teams, and even my Chicago teams, I'd always be checking on their injury status, and I started getting curious about things like 'What's a hamstring injury?'" he says. "I finally just decided to combine my love of three things—medicine, sports and writing—into one."
A friend of Siebert's, a grad of the University of Chicago Pritzker School of Medicine, where Siebert will graduate in June, had started a sports blog that focused on sports injuries. Siebert jumped on board, but when the friend began his residency he no longer had time to administer the blog, so Siebert looked for a new avenue to practice his writing.
That's when he happened upon Bleacher Report. Shortly after joining the site, Siebert became an Injuries Featured Columnist, working mostly with B/R's NFL editors.
He impressed immediately.
"Beyond his inherent writing talent, Dave has an unquenchable thirst for knowledge that bodes well for helping to shape every article as better than the last," says NFL Editor Collin McCollough. "He's never complacent, and one of the best traits you can ask for from writers is a lack of complacency. Dave is always looking for ways to get smarter and better, and that ensures that he is noticed in all the right ways."
Siebert says that what he likes about writing for B/R is not just the interest readers have taken in responding to his work (he goes out of his way to respond to every comment), but the opportunity to talk about the human side of athletic injuries.
He says that explaining injuries and medical problems to readers who might be unfamiliar with the concepts involved, while also paying attention to the humanity of the situation, is good practice for his future, when he plans to work in a family practice.
"My favorite things to write about are stories that focus on an athlete's entire story rather than just the medicine," Siebert says. "Explaining medical and anatomical details and debunking myths will always be my bread and butter, of course, but how an injury or condition affects where an athlete is, where he or she is going and what he or she needs to do to get there are important too. Not just the athlete, not just the injury, but combining both into the context of their future and past—Marcus Lattimore's knee injury, Johnny Knox's retirement and Royce White's generalized anxiety disorder, for example."
Before becoming enthralled with the medical aspect of sports, Siebert was, and still is, a sports fan with deep Chicago roots. He's a disgruntled Cubs die-hard who holds no ill-will toward Steve Bartman: "Crazy things happen at live events,"  he says. "Who knows, I probably would have done the same thing." And Siebert once nearly got kicked out of a hotel for being too loud during Illinois'15-point comeback against Arizona in the 2005 Elite Eight.
For the first time in his life, he'll soon be leaving the Midwest. He's headed to Seattle, where he was recently accepted to the University of Washington Family of Medicine Residency program.
His advice for budding writers is the same approach he's taken in both his medical career and his writing aspirations: grind.
"I basically spent all my spare time my fourth year in med school trying to learn journalism, like, what the hell passive voice is and why I need to stop using it," Siebert says. "I didn't really sleep much, I'd go to class, study, go home and write.
"You just have to put the time in and take all of the advice that people give you while you're at it. I have post-it notes all over my desktop of my Mac: no more Oxford comma, use the em-dash and so on, just as reminders."
* * *
Check out Siebert's published body of work on Bleacher Report here and follow him on Twitter at @DaveMSiebert.
Sean Swaby is Bleacher Report's Featured Columnist Coordinator.