Never be satisfied: Focus on your flaws and improve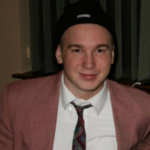 As a senior enrolled in UConn's stellar journalism program, I have received instruction from some of the best about what it takes to be a sports journalist in a changing world.
But it's been my time at Bleacher Report that has helped me fulfill a goal I have had since I was a child: to become a published sportswriter on a major site.
The Bleacher Report Advanced Program in Sports Media has been an amazing experience, and the six weeks I have spent with the program so far have helped me immensely.
The entire experience has been educational, helpful and most importantly, humbling.
My love of sports came at a very young age. My dad always used sports and competition as a way to teach me every life lesson imaginable.
But my goal of working in sports came later from my mom. My mother's dream was to see her son giving play-by-play of an important game or working his way up to interviewing the players he idolized as a kid.
So when Mom passed away suddenly three years ago, I was hit with a reality check. I realized my mother's dream was attainable, and it was something I wanted to do not just for her, but for me as well.
So I entered the B/R program as a cocky college kid who spent his whole life expecting to waltz into a sportswriting gig on talent alone.
However, my time at Bleacher Report has helped me realize the benefits of hard work, and that the most important thing in writing is constant improvement.
Work hard every day, correct your mistakes and pick the brains of those who are much smarter than you. Thanks to Bleacher Report, I have had the opportunity to do that on a daily basis.
The main takeaway that I have from my Bleacher Report experience is that anything is attainable through hard work and dedication.
Focus on your flaws, learn how to correct them and make sure you improve with every story.
The main thing to remember is that each story should be better than your last. Every time you write something, you should make some type of improvement.
For me, it has been important to focus on grammar and style, but whether you need to work on grammar, media integration, lede writing or story identification, it is important to understand your mistakes, learn how to improve, and execute.
You can never settle. Staying motivated to get better is essential.
Thanks to the people at Bleacher Report, I am learning what I need to work on and getting better each and every day.
* * *
Ryan Tolmich is in the Summer class. Follow him on Twitter @R_Tolmich.
One Thing You Need to Know is a series in which we ask members of the Bleacher Report Advanced Program in Sports Media to write about just that: One thing they've learned that they would pass along to other aspiring writers.