FC of the Month: Giancarlo King, 3-team NFL writer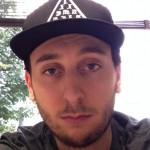 Giancarlo King racked up more than 210,000 reads on 14 stories in January, but that's not why he's the Bleacher Report Featured Columnist of the Month. It's the range of his coverage: The New Jersey native took on a prominent publishing role for three NFL franchises this season.
"Most NFL FCs dedicate their focus to one team—something that affords those writers a sense of expertise and proficiency writing about their favorite team," said B/R NFL Associate Editor Justin Onslow. "Giancarlo currently covers three teams for B/R NFL, and he does an equally impressive job with each."
King became a Featured Columnist to write about his main squeeze in the sport, the Minnesota Vikings, but this year he also provided FC-level content for the Oakland Raiders and Jacksonville Jaguars, and he served as an in-game grader for the Green Bay Packers.
The 25-year-old began his path at B/R by applying to the Writer Program in December 2012. He was accepted into the FC program in May, and he's continued to rise gradually, taking particular interest in NFL draft research and film breakdowns.
"I like to switch up what I'm covering," he said, "but I really liked the draft coverage, analyzing who fits where. That's something I've done more of recently. And then the teaching sessions with Matt Bowen, learning how to study the game."
Raised in a family that's heavily into the advertising industry, King developed into a copywriter in his teenage years. He ended up at Full Sail University in Winter Park, Fla., studying film and creative writing, which is where he started to focus on stories and opinion pieces.
Given his longtime Vikings fandom (it's mainly Randy Moss' fault)—which made him a rare breed for a Jerseyite—and his propensity to scour a variety of sports sites on a daily basis, King felt compelled to start writing about the NFL. That led him to B/R.
Now with a regular 9-to-5 at an ad agency, King said he does much of his writing on weekends and late at night as he continues to polish his skills, eventually hoping to turn NFL coverage into a full-time profession.
"I'm sometimes up until 3 or 4 a.m. writing, looking at film," said King. "You don't really notice if you're enjoying it."
 * * *
Check out King's published body of work on Bleacher Report here and follow him on Twitter at @Giancarlo King
 Casey Crowe is Bleacher Report's Featured Columnist Coordinator.