Bleacher Report's Roy Burton shines on Philly "Lunch Break"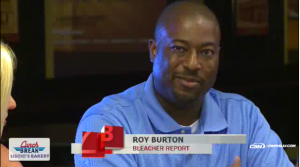 Philadelphia 76ers featured columnist Roy Burton represented Bleacher Report on CSNPhilly.com's "Lunch Break" today.
Burton and host Rhea Hughes talked about what the Sixers might do in Thursday's NBA draft and trade rumors surrounding Andre Iguodala, the subject of Burton's most recent B/R piece.
They also discussed Burton's work for Section 215, but Hughes introduced Burton as a featured columnist for Bleacher Report — and he represented B/R well!
"You're the perfect guest for me," Hughes said at one point when Burton had smoothly moved from one subject to the next, "because you do the segues for me."
Here's Burton's star turn: