What movies should every sportswriter see?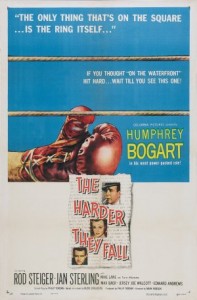 What are the movies every aspiring sportswriter should watch?
That question, batted around my corner of the palatial Bleacher Report headquarters the other day, was inspired by this list of "the 14 movies every journalism major must see."
I don't see how "Absence of Malice" didn't make that list, but that's another blog post.
Let us know the movies you think any sportswriter worth his or her salt should have seen at some point, and briefly tell us why.
Since I'm an old guy, I'll get the ball rolling with an oldie, "The Harder They Fall," which was Humphrey Bogart's last movie. He plays a down-on-his-luck sportswriter who takes a job as a flack for a crooked fight promoter who is building up a heavyweight contender through fixed fights.
The movie is based on Budd Schulberg's classic novel of the same name, which should be on any aspiring sportswriter's bookshelf. But be patient. That's another blog post too, and that one's coming soon.
Poster photo: Wikipedia