Bleacher Report one of Time's top 50 websites of 2011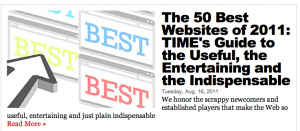 Bleacher Report is one of the 50 Best Websites of 2011 according to Time.com, which proclaimed that it's honoring "the scrappy newcomers and established players that make the Web so useful, entertaining and just plain indispensable."
I don't know which we are. The other sports sites honored on the unordered list are Bill Simmons' Grantland, the NASCAR site Jayski's Silly Season Site, which like Grantland is owned by ESPN, the Onion Sports Network and SB Nation.
The list is presented as a slideshow.
Time's Harry McCracken points out that B/R's writing is "done by thousands of fan-contributors, which is why it feels so deep and so passionate." He also writes, "The standard of quality is markedly higher than at some community-created news hubs."
It's always nice to be acknowledged by your peers in the business. Bleacher Report's writing community should take a bow for a well-earned honor.