Why I Don't Watch "SportsCenter": How to Give Readers Exactly What They're Searching For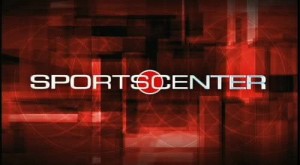 "SportsCenter" serves me no purpose.
As a sports journalist, all "SportsCenter" gives me is a condensed version of the stories I knew all about two hours before Stuart Scott decided to fill me in. As a Bleacher Report editor, I'm in the business of sports opinion and discussion, not news reporting. So ESPN's flagship program does me no good there either.
But the most substantial reason I have for changing the channel comes from the perspective of a sports media consumer. As a viewer, I find the show extremely frustrating. Consider the following:
You turn on "SportsCenter" and you see "LeBron James Comments" up at the top of the show's ever-present rundown. You want to hear what LeBron had to say. But you'll have to sit through at least 10 minutes of Orioles highlights first. Annoyed, you decide to take matters into your own hands, and you Google it.
That's where I come in.
It's my job to anticipate topics and angles that will appeal most to our readers, and the best way to do this is surprisingly simple:
Give them what they're searching for.
Seems obvious, right? Of course we want to write articles that people will read. It's getting readers to keep reading that is most challenging.
Now, I can't offer you an exact formula for fulfilling the desires of our entire readership (I'm good, but I'm not that good), but I can tell you that applying the following strategies in your writing will all but guarantee you reader interaction and reader satisfaction.
Think like them: This is often the most difficult strategy to implement in your writing. We are often so stuck in "analyst mode" that we forget to stop and ask ourselves, "Would I want to read this?"
If the answer is no, it's your duty to fix that.
Don't lie to them: This starts with the headline. When a reader clicks through to your article, he trusts you to not waste his time. So don't.
If you use the words "NFL Rumors" in your headline, give the reader a rumor. And no, an analysis of the Ravens' defensive strategy is NOT a rumor.
If you ask a question in your headline, make sure you answer it in your lede. This way, the time your reader invested in your article when she clicked on your headline will have been worth it, and the reader's trust in you will have been validated.  And she will then be able to continue on through your piece without skepticism.
Guide them: In order to fully commit yourself to this strategy, you must first come to terms with one humbling fact.
Readers are not going to read every word in your article.
And that's OK. The same way we find ourselves clicking quickly through slideshows in an attempt to find our favorite teams or players, our readers will skip sentences and paragraphs of our articles looking for that one bit of information that speaks to them.
So help a fellow sports fan out, and provide your reader with a sort of roadmap through your piece. The most useful strategy we've discovered is organizing articles into subsections.  Use bold text to introduce new teams, players, concepts, etc. Like traffic signs, these sections say:
Here's the part you want to read!
Jacob Gube, founder and chief editor of the popular web development and design site Six Revisions and deputy editor of Design Instruct, a web magazine for designers, recently outlined his 7 Best Practices for Improving Your Website's Usability based on research findings and suggestions by well-regarded usability experts such as Jakob Nielsen.
You should read that piece to learn more about them, but here are the seven best practices:
1. Keep Content as Concise as Possible
2. Use Headings to Break Up Long Articles
3. Help Readers Scan Your Webpages Quickly
4. Use Bulleted Lists and Text Formatting
5. Give Text Blocks Sufficient Spacing
6. Make Hyperlinked Text User-Friendly
7. Use Visuals Strategically
These same concepts can also be applied to the articles you write.
As writers, our first thought is seldom "How usable is my article?" But as Bleacher Report writers, it should be. Every journalist (newspapers, broadcast, etc.) has the responsibility of providing readers with relevant, digestible, accurate information, and we are not absolved of this responsibility simply because we circulate our words through a different medium.
So have fun, be creative and write thought-provoking pieces, but remember…
When readers see a Bleacher Report article in a newsletter, tweet or search engine results, we want them to click through confident that they'll find exactly what they're searching for.
* * *
Bailey Brautigan is a Trends and Traffic (TNT) Editor for Bleacher Report. A product of Ohio University's Sport Management program, she began her sportswriting career as a B/R copy editing intern, and she quickly worked her way up to a writing internship with B/R's breaking news and pop culture team (now TNT and Swagger). After developing a fondness and understanding of reader preferences and SEO, Bailey was given the opportunity to shine as one of B/R's TNT editors.
Bailey lives in New York City and works out of Bleacher Report's Manhattan office cultivating a team of versatile, media-savvy writers. Swagger put her on the map. Google kept her there.