Shoutout: A deep dive on the Colts' defensive debacle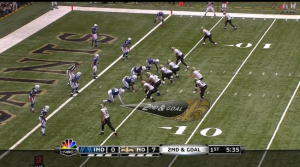 What's wrong with the Indianapolis Colts defense? A lot. This is not deep analysis. The Colts are winless and they gave up 62 points to the New Orleans Saints Sunday.
But what, exactly, is wrong? Well, a lot, and according to Collin McCollough, Bleacher Report's NFL Associate Editor, it starts at the top.
His piece today, "How Larry Coyer's Defensive Scheme Is Killing the Indianapolis Colts," uses photos from Sunday's disaster in New Orleans to illustrate how, even if the Colts had more talent on defense than they have, and even if they had Peyton Manning, they'd be struggling as a team, because the defensive scheme is all wrong.
It's a terrific piece of analysis.