Tom Verducci interview by Jeff Pearlman: Life lessons for writers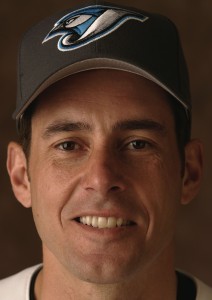 Jeff Pearlman, a prolific author of sports books, has an interview on his personal blog with Sports Illustrated baseball writer Tom Verducci that any aspiring sportswriter ought to read.
Pearlman, who has written books about the Dallas Cowboys dynasty, the 1986 New York Mets, Barry Bonds, Roger Clemens and Walter Payton, worked with Verducci at SI, but writes that he never really got to know the veteran scribe, who Pearlman describes as "guarded." But Verducci was forthcoming for the interview.
The whole thing's worth reading, but I thought two excerpts really stood out for aspiring sportswriters. The first is Verducci's answer to Pearlman's first question, about his focus in the press box. Verducci, Pearlman notes, is not one for "small talk and inane banter." Verducci agrees and explains why:
I love noticing the small details within a game, for instance, and sometimes you look around in the press box and you can count the heads that are down—playing solitaire, checking their fantasy football team or buried in Twitter. Whatever works for you.
I'm pretty sure that last line is sarcastic. In a world of endlessly distracted people being distracted endlessly by endless distractions, one way to stand out is by focusing.
My other favorite answer comes when Pearlman asks Verducci what he tells high school or college kids who say they want to do what Verducci does, "with newspapers on their death hook, magazines vanishing."
Go for it. I never stopped to think about how darn competitive journalism is—and specifically, baseball writing. I never stopped to think about it when I first applied to 30 or so newspapers as a graduating senior at Penn State and received rejection letters from every one of them. Why? I wanted to write and so I knew that was what I was going to do. And if you are working at something you are passionate about, you are going to do it with enthusiasm and curiosity, which are the requirements of improvement, which will continue to propel you forward.

I hate those lists that come out every spring around graduation time about "where the hot jobs are." It's a moving target, and it may be in a direction to which you have no interest. You can't know where publishing will evolve and what the market will be. But you can know what's in your heart. I tell them to pursue their passion. And I tell them that ever since man came back from a hunt and painted pictures on the cave wall about it, people are interested in a good story well told. Sure, how that story is delivered may change, but the innate need to connect to one another through stories does not change.
* * *
Photo: Tom Verducci in 2005, when he was "embedded" with the Toronto Blue Jays for a story. Getty Images.