Lennay's Law: Tell us what you know is true, and tell us how you know it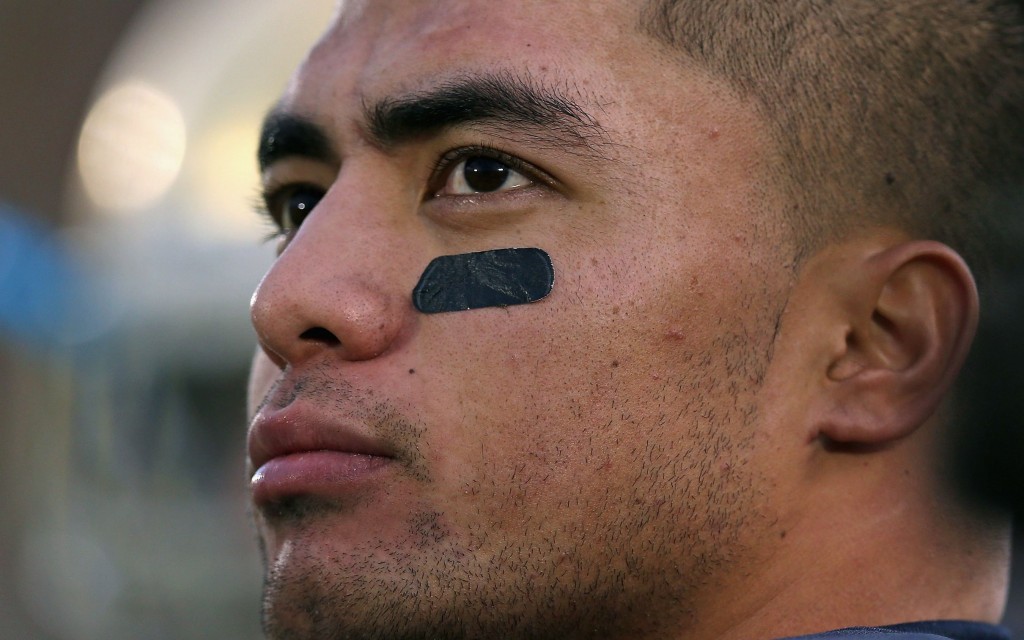 Here's a good lesson to take away from the Manti Te'o-Lennay Kekua hoax girlfriend story: Tell us what you know is true, and tell us how you know it. Maybe we should call that Lennay's Law.
The dust is starting to settle, the secondary figures starting to get their 15 minutes—the woman whose Facebook photos were stolen to stand in for Lennay has made a star turn on "Today" the last two days—and everyone who ever did a story about the Notre Dame star and his double tragedy is either apologizing, explaining, justifying, promising it won't happen again or some combination.
Here's how they could have avoided a lot of the pain: They could have told us what they knew was true, and how they knew it.
"Short of asking to see a death certificate, I'm not sure what most people would do differently in that case," ESPN reporter Gene Wojciechowski said on "SportsCenter" about his heart-tugging ESPN feature on Te'o's grief over the deaths of his grandmother and Kekua.
Here's what: Tell us what you know is true, and tell us how you know it.
In a Washington Post piece written by Paul Farhi, Bill Bilinski, sports editor of the South Bend Tribune, defends Notre Dame's hometown newspaper, which played a big role in turning Te'o's grief over Kekua into a national story. Bilinski rhetorically asks, "If a college kid says he worked at Wendy's at age 16, are you going to call up the manager at the Wendy's to find out the dates he worked there?"
Probably not. But if you don't, what you can do is write that the kid says he worked at Wendy's. You don't know it's true that the kid worked at Wendy's. What you know is true is that the kid says he worked at Wendy's. Tell us that. If it's worth checking out, then check it out. If it's not, don't. In the meantime, though, tell us what you know is true, and tell us how you know it.
That way, you're a reporter, not an omniscient narrator. And if it turns out the kid never set foot in a Wendy's, you'll be a reporter who was lied to, not a party to the lie. That's an important line to stay on the right side of.
Here's how South Bend Tribune writer Eric Hansen began his Oct. 12, 2012, story about Te'o:
It never felt like a chance meeting, although it probably appeared that way from the outside looking in.

Their stares got pleasantly tangled, then Manti Te'o extended his hand to the stranger with a warm smile and soulful eyes.

They could have just as easily brushed past each other and into separate sunsets. Te'o had plenty to preoccupy himself that November weekend in Palo Alto, Calif., back in 2009.
Later in the story, Hansen writes that Te'o's parents and little brother would be in the stands for that week's home game against Stanford:
And Manti Te'o is convinced the beautiful stranger will be watching, too, Saturday, somehow.

Lennay Kekua was a Stanford student and Cardinal football fan when the two exchanged glances, handshakes and phone numbers that fateful weekend three seasons ago.
And so on. Of course, we know now that none of this ever happened.
"About the time Kekua and Manti became a couple, she was injured in an auto accident," the narration continues. And "Kekua, who eventually graduated from Stanford, was, in fact, doing so well that she was released from the hospital on Sept. 10."
The Washington Post's Farhi also quotes the South Bend Tribune's editor, Tim Harmon, saying that the paper had no reason to doubt the Kekua story. "It just seemed to be a fact," Harmon says in the piece. "Everyone here in South Bend believed it."
Maybe "it just seemed to be a fact" because of all the reporters who portrayed it as fact, rather than as something they'd been told, with the accompanying information about who told it to them.
The Tribune editors said that Brian Te'o, Manti's father, was the source of all that detail, Farhi writes.
We may wonder why Manti's parents never seemed to question why they'd never met their son's girlfriend, but that's a personal question, not a journalism one. If all the reporters who covered this story had told us what they knew was true and how they knew it, the Te'o-Kekua postmortem wouldn't have been an attempt to understand a colossal journalistic breakdown. It would have been an attempt to understand why Te'o and some people around him said so many things that turned out to be not true.
Nobody expects reporters and writers to sniff out every lie, to never fall for a hoax, even to check every last fact. But what we should expect, from our fellow writers and from ourselves, is honesty.
Tell us what you know is true, and tell us how you know it. It's Lennay's Law. Knowing her as I did, I'm sure she would have wanted you to remember her for it.
* * *
Manti Te'o photo by Getty Images