B/R writer: I've won a Sports Emmy, but I'm just getting started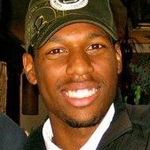 Along with a team of talented professionals, I was recently awarded a Sports Emmy for my work covering the London Olympic Games with the NBC Sports Group. The London Olympics stand as the highest rated television event in United States TV history, and I am proud to be counted as one of its associate producers. As a unit, we produced more than 5,000 hours of content across multiple platforms, accounting for differences in time and space, and helped more Americans experience the Games than ever before.
I am incredibly humbled, really. After personally watching Usain Bolt chase and pass fellow sprinters in minimal distances, I know better than to rest on my laurels and trumpet any success as my own. My professors at Howard University and mentors at the Emma Bowen Foundation always spoke of personal triumphs as a shared community experience. I'm younger than I look, and have only been at it for a few short years. I don't fully consider myself a SUCCESS, in frozen caps lock.
Not that long ago, I was walking through Times Square for a daytime talk show in a business suit, with a smile fixed to my face and a poster board stuck to my chest, yelling about my abundance of "FREE TICKETS!!!" to legions of amused tourists. To my fellow B/R writers: You're not the only one hunkered down in your tight apartment, staring at the keyboard with deadline looming, trying to find another way to say "potential."
I feel your pain.
That being said, I've enjoyed writing for Bleacher Report. I first heard of Bleacher Report back in 2008, right after Kanye's "Graduation" dropped on my iTunes. A college buddy wrote for B/R Swagger's beta interpretation and e-introduced me Swagger Editor Matt King. I was skeptical at first, given the negative press surrounding the site regarding fanatical SEO techniques and alleged shoddy journalism, and stuck with my column in our college daily until graduation.
However, as I pushed ahead, I soon realized that the bell tolled for the print medium. Change was coming fast, in all aspects of the media business, and I would need to be a well-rounded storyteller to survive. I leaned on my video production experience and scored a sweet gig as an intern with NBC Olympics in Beijing, where I learned how to tell the best stories from the best storytellers. This internship led to another internship, which begat a job, which begat a few more jobs, and then recently, a Sports Emmy. In short: I kept saying "Yes," trusting Christ and pressing forward.
So about my current B/R situation: After a long hiatus, I finally decided to give Bleacher Report a spin. I see B/R as a great opportunity for this young writer to fashion his voice and get juicy critical feedback from the site's talented editors. Also, B/R helps me keep the knife sharp, gut the bats from my creative belfry, and get daily tutorials from my mustachioed mentor and the B/R team.
That's enough talk for now. Like the great Ralph Wiley, I look forward. I'm less than two weeks short of another birthday, with 30 gaining fast, and have yet to perfect the craft of storytelling that I hold dear. Not to worry. As Baron Pierre de Coubertin, founder of the modern Olympic Games, once remarked, "The most important thing in life is not the triumph but the struggle."
So I press on, a twenty-something writer from Brooklyn, aspiring to be what the late David Halberstam once was to the sports landscape: a great storyteller.
* * *
Mike Benjamin is an NBA Featured Columnist for Bleacher Report. Follow him on Twitter @MBauthor