Sam Tighe's tactical soccer knowledge, hair earn him FC honors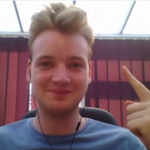 It was shortly after Sam Tighe turned in his final exam at the University of the West of England that he realized he wanted to pursue writing about sports for a living.
Bummer.
"I kind of thought, 'Damnit, (sportswriting) is what I actually want to do and didn't take advantage of working for any of the university newspapers or anything,'" he said.
He couldn't have guessed that only a few years later, his talent for putting words in front of each other would have him covering an England-Ireland friendly at Wembley Stadium or earning the praise of Alexi Lalas for both his knowledge of world football and, of equal importance, his hair.
Tighe, Bleacher Report's Featured Columnist of the Month for May, has risen through the Bleacher Report writer ranks since joining the site in August 2011 and is now the world football team's Tactical Analyst, publishing four pieces a day.
His staggering knowledge of the sport, along with his locks, earned him the high praise of Lalas (who knows a thing or two about hair) during a Google Hangout with B/R Lead Writer Will Tidey and Featured Columnist Matteo Bonetti.
"I mean, of course that was a big moment to have him compliment my hair," Tighe said. "But it really meant a lot more that he told me he really enjoyed working with me and that he thought I really knew my stuff.
"You'd hate to have an analyst or especially a former pro tell you, 'That's rubbish,' so to have that type of approval from Alexi really meant a lot."
A devout Aston Villa supporter, Tighe was originally compelled to write for Bleacher Report when Tottenham right back Kyle Walker* was on loan to Villa and Tighe didn't understand the hype surrounding him.
Since then, he's forged his own specialty in the World Football section that few have tackled with the same passion: advanced tactics. He analyzes things like spacing, player tendencies, formational trends and player movement. Read Tighe's piece from last week about how German giants Bayern Munich were able to bully all of Europe from a tactical standpoint.
Tighe says he was a decent footballer growing up, but started picking up on more advanced aspects of the game by watching it. He also knew that in order to flourish in the writing industry, he'd have to do something to make himself indispensable.
"A lot of writers could replicate a How-Arsenal-Can-Try-To-Replicate-Robin-van-Persie story, but not everyone can say exactly what Bayern did to beat Borussia Dortmund," he said.
He now goes into any match he watches knowing the pros and cons of formations certain sides utilize, looking for how they're changed throughout the match and doing plenty of research in between.
Tighe says that he strives for one thing above all else: consistency. He says he knows that he's competing against hundreds of other bloggers and writers, so building an interesting, consistent brand is the best way to gain and keep readers' respect.
His tireless work rate and growth as a writer have impressed his editors, even if his choice of a Premier League team hasn't.
"Sam is exactly the kind of success story to which other B/R writers can aspire," Soccer Editor Adam Hirshfield said. "Despite what being a fan of Aston Villa and the Detroit Lions might suggest, he's bright, knowledgeable and quick-witted.
"But he's become a star at B/R because he's worked his rear end off and has been willing to take on whatever is asked of him. He's an excellent writer with a bright future ahead of him … and he has great hair."
Added Tidey: "I'd consider him one of our best writers and brightest prospects. He's conscientious and always looking to improve.
"Just a shame he supports Aston Villa."
* Post has been updated to correct Walker's position, and the photo has been updated to a better view of Tighe's hair. 
* * *
Check out Tighe's published body of work on Bleacher Report here and follow him on Twitter at @stighefootball.
Sean Swaby is Bleacher Report's Featured Columnist Coordinator.