FC of Month Dylan DeSimone uses filmmaking chops in writing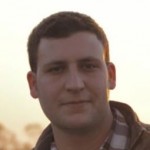 Like most sports media types, Dylan DeSimone wanted to get involved with sports because he played them, enjoyed them and wanted to  do something with them.
As he got older and built his knowledge in film, English and philosophy, his once-casual interest in the people and narrative of sport grew into a passion and an aspiration.
He's used his unique approach to publishing to become one of Bleacher Report's rising stars on the NFL team as a San Francisco 49ers Featured Columnist, and is Bleacher Report's FC of the Month for August.
DeSimone's publishing career started as a student at UConn, where he studied English from 2005-11. An avid follower of the Huskies' football and basketball teams, he decided it'd be worth trying his hand at UConn's student paper, The UConn Daily Campus.
"I always enjoyed reading the paper and figured maybe I could do it, too," DeSimone says. "So I walked in, told the editor, 'Let me write for you guys,' and haven't looked back since."
While he honed his writing chops for the student paper, DeSimone also dabbled in a different passion: filmmaking. He'd spent the first 10 years of his childhood in the movie-production capital of Los Angeles and film interested him.
He helped direct and produce a short docudrama, "De-Ploy," with friend David Haladjian tracking a soldier's last day before deployment to Afghanistan. The film won a UConn film festival and was accepted to the prestigious Cannes Film Festival in France. Check it out via Vimeo here.
DeSimone says his experience with film has taught him about sportswriting.
"I like to be able to humanize stories and enjoy working with characters," he says. "I like to try and capture more than just the player—I enjoy discovering the person and what drives the person."
His approach was on display in a five-part series DeSimone created in August, "The Untold Perspective of the 49ers." In the series, he delved into the team's history while interviewing three-time Super Bowl-winning offensive lineman Guy McIntyre and longtime team photographer-artist Michael Zagaris. He also produced and edited each of the video spots. See all five installments here: I, II, III, IV and V.
Following his graduation, he jumped on with Niners Nation, an SB Nation outfit, and then applied to join Bleacher Report in August 2011. He eventually left SBN when asked to take on a larger 49ers-related role with B/R.
"Dylan has been an incredible Featured Columnist for us since coming over from SB Nation," Associate NFL Editor Ian Kenyon said. "He consistently strives to get better and it shows in his work. Over the past year and a half, Dylan has become a writer that I can always depend on to not only hit deadlines, but also put out top-notch work that Bleacher Report can be proud of."
* * *
Check out DeSimone's published body of work here and follow him on Twitter at @DeSimone80.  
Sean Swaby is Bleacher Report's Featured Columnist Coordinator. Here's is more information about the FC program.