FC of the Month: Taylor Gaspar spits truth about Texas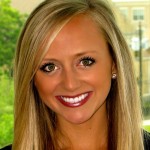 Taylor Gaspar has come a long way since being on the receiving end of an accidental loogie from then-Dallas Cowboy Leonard Davis.
Gaspar, Bleacher Report's Featured Columnist of the Month for her work covering the Texas Longhorns, had her first professional interview get off to an auspicious start. Things got messy at the Cowboys' 2008 training camp in San Antonio as Gaspar, a University of Texas student interning for ESPN's local affiliate, interviewed Davis, a former Longhorn standout.
"When I was interviewing him, he still had his mouthguard in and he was kind of playing with it in his mouth," Gaspar says. "While he was talking, he accidentally spit and it was like slow motion going right toward my face—and he's this huge guy.
"It hit me right between the eyes and he was like, 'Oh, my bad.' It was horrible. I didn't know what to do. Should I wipe it off? So we had this super awkward interview that went horribly, and it was my first ever interview."
In spite of Spitgate, Gaspar's fledgling career across various media has flourished. Her work has taken her to ESPN, TBS and Orangebloods.com, to name a few. Her work with the latter, which is a part of the Rivals.com network, got her on the radar of Bleacher Report's college football team, which she joined in August.
Her coverage of the Longhorns so far this season already has editors singing her praises.
"Taylor is everything we want in a B/R Featured Columnist," College Football Editor Thomaselli says. "She writes as a fan with great passion for the team she covers, yet she writes with the objectivity of a seasoned pro.
"Her professionalism on the beat has been outstanding and her work ethic is second to none. Between the debate over whether longtime coach Mack Brown should stay to the quarterbacking issues and more, Taylor has been all over it."
Gaspar said that when Bleacher Report approached her, she was intrigued not only by the website but by the idea of a gig that would focus solely on honing her writing chops. Her previous and other current work revolves around a combination of radio, television and writing work.
"I had never really done a full-blown writing role," she says. "I figure the more you add to your résumé, the harder it is to get fired."
Given her Mission Viejo, Calif., upbringing in a household rife with sports, her desire to work in the field is hardly surprising. Consider: her father, Rod Gaspar, was a rookie outfielder on the "Miracle Mets" in 1969. Her older brother Cade, a pitcher, was the No. 18 overall pick of the 1994 MLB draft by the Detroit Tigers.
The youngest of five children in a sports-centric family, Gaspar says she watched so much baseball growing up it's hard to believe now. Childhood memories include being forced to play goalie in street roller-hockey games with her brothers while they peppered shots at her, and being taught by her brothers how to block the plate as a catcher when she played softball … as a 7-year-old.
She eventually went on to flourish in soccer, basketball and track. She never really embraced softball, in part because, as she puts it, "My dad told me softball was too boring."
When starting at Texas in 2006 as a history major, Gaspar contemplated working toward law school. Then she dabbled in a pre-law class, reality set in, and she realized the law wasn't for her.
Instead, she took an internship with ESPN Radio and began covering everything imaginable. Her first assignment? A bull rodeo.
When she graduated in 2010, Gaspar used her experience to land a full-time gig with Orangebloods.com.
The key to her success, not surprising for someone who has both covered rodeos and been spit on as part of the job, is persistence.
"It's very rare that people right out of college land their dream job and make tons of money," Gaspar says. "I interned at so many different places and stuck with it because I knew it was what I wanted to do.
"Stay persistent, and ultimately things will work out."
* * *
Check out Gaspar's published body of work on Bleacher Report here and follow her on Twitter at @Taylor_Gaspar.
Sean Swaby is Bleacher Report's Featured Columnist Coordinator. Here is more information about the FC program.