Shoutouts: Honors for B/R's Will Carroll, and some other recent winners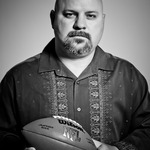 Congratulations to Will Carroll, who has won a MORE Award in the annual journalism honors bestowed by the American Academy of Orthopaedic Surgeons for his article Dr. Frank Jobe, Tommy John and the Surgery That Changed Baseball Forever.
MORE stands for Media Orthopaedic Reporting Excellence. Winners in various categories the previous two years included Sports Illustrated, ESPN, USA Today, the Detroit Free Press, the Chicago Tribune, CNN.com and ABC News.
According to the AAOS, "The MORE Awards honor media efforts that further public understanding of musculoskeletal health-related issues and encourage healthy behaviors in the care of bones, joints, muscles and tendons."
Carroll's piece about Dr. Jobe was one of four in a package about Tommy John surgery. The other articles detailed the surgery and key issues surrounding it, discussed the most notable pitcher patients through the years and addressed the startling number of current pitchers who've had the operation.
Here are a few quick Shoutouts to some more recent notable pieces:
Iowa State's Fred Hoiberg Is the Hottest Basketball Coach in America by C.J. Moore
The Major Flaw with Evaluating Blake Griffin by Adam Fromal
Forget About His Past, Lane Kiffin as Alabama OC Makes a Lot of Sense by Adam Kramer
Broncos Win Pits Manning vs. Brady in a Battle of Legacies for AFC Crown by Mike Freeman
Miesha Tate: Barbie Dolls and Bloodshed by Jeremy Botter
That last one was published way back on Christmas Day, and Tate ended up losing her title bout with Ronda Rousey a few days later. But it's worth going back for a read.