"Verification Handbook" aims to help you find truth in digital noise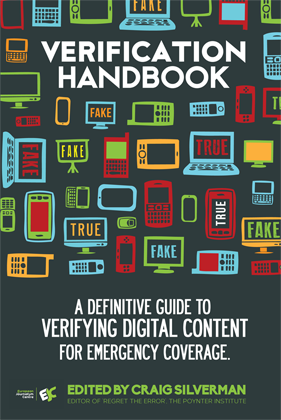 There's a great-looking new free resource for attribution and verification: "Verification Handbook: A Definitive Guide to Verifying Digital Content for Emergency Coverage."
I say it's great-looking not because it's pretty but because it looks like it's great. I haven't read it yet, but I plan to rectify that in the next 24 hours, and I have a lot of confidence in it.
"Verification Handbook" is a project of the European Journalism Centre and was edited by Poynter.org's Craig Silverman, one of the best in the world, if not the best, on the subject of attribution and verification for journalists. It looks like he's made seven appearances in the B/R Blog. The handbook is available online as an html document, but you can leave your email address and you'll be notified when printed, ePub and PDF versions are out.
In an introductory post at Poynter.org, Silverman writes:
In the past three years, perhaps in part due to the spread of social media, smartphones and viral news, I've found myself more and more focused on verification.

With so much misinformation flowing fast and freely, and the ability for anyone to easily shoot, share and/or manipulate images and video, the skills of verification have never been more important. Yet it's not taught on an ongoing basis in most newsrooms. And it's not just journalists who need the skills and knowledge to sift real from fake—this is a basic, essential skill of news literacy. We all need it. It's about cultivating a mindset to question and scratch away at the surface of what we see, hear and read.
We talk a lot about attribution and verification at Bleacher Report, since news aggregation is a huge part of what we do. And we teach it on an ongoing basis. Here are the Attribution Guidelines, and "Attribution and Hyperlinks" chapter from "Playbook: The Basics of Writing for Bleacher Report." You can download Playbook, our basic-writing textbook, for free at Smashwords.com.
But you can never talk too much about this vital subject. "Verification Handbook" is meant as a guide for how to verify digital information in emergencies, but at Bleacher Report we understand that as an everyday skill.
Silverman again:
This handbook offers lots of tools and some technical advice — but the most important pieces are non-technical. It's about a mindset, about asking questions when others don't, and maintaining skepticism when something looks true, or is more attractive if true.

It's also about practice. Do the work of verification day after day and you'll hone your skills, and your sense. Do it with colleagues in a defined process, and you'll all achieve a better result—faster.
Silverman got contributions from journalists around the world, and he writes that there are case studies in the book not just from the United States but from Syria, Japan, Nigeria and other countries. The contributor lineup includes representatives from the BBC, the Guardian, Circa, Amnesty International and other journalism and NGO powerhouses.
Several of those contributors, like Silverman, make regular appearances in these pages, including Steve Buttry—eight mentions!—and Mathew Ingram.