FC of the Month Justin Neuman bonded with Syracuse in a flooded basement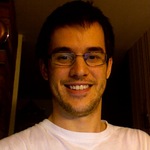 Bleacher Report Featured Columnist of the Month Justin Neuman's devotion to Jim Boeheim and the Syracuse Orange was solidified around an inoperable sump pump.
It was 2003, Syracuse was taking on Texas in the Final Four, and Neuman's house in Baldwinsville, N.Y., was on the verge of an icy flooding.
"There was a huge ice storm up here, and we were going between having power and not having power," says Neuman, who was 15 at the time. "I can remember being in the basement with my mom, bailing out the pump because it wouldn't empty. We couldn't watch the game on TV because of the power, so we listened to the whole thing on a little battery-powered radio. It meant something right then."
A journalism grad of SUNY Oswego in the Syracuse area, Neuman—who started his tenure at B/R as a copy editor in the summer of 2013—parlayed his expertise surrounding the Orange into an FC role in October. He's thrived since joining the college hoops ranks, claiming February 2014's top FC honors, with a particularly notable ability to generate strong story angles on his own.
Neuman "has been on point with his work and has been pitching excellent ideas since starting up," says Bleacher Report associate college basketball editor Ben Chodos.
Neuman says his time spent on the editing team played a crucial role in helping him develop into one of the site's best NCAA basketball FCs, giving him time to completely familiarize himself with B/R's key tenets, from style to attribution to content standards.
With his editing days behind him, Neuman is now focused on creating high-caliber content for Syracuse—a club that held the No. 1 ranking for a chunk of the regular season before losing four of its last five—and he's well-versed on where the season turned and how it can be re-tracked.
"Jerami Grant's back is messed up. He tweaked it during the Duke game. The next couple games he played the first half and sat out the second," says Neuman, who says Syracuse's title hopes will be determined by Grant's health. "That's one of your best inside scorers and leading rebounder. At this point, they just don't have enough points outside of C.J. Fair and Tyler Ennis."
The most controversial moment of Syracuse's recent backslide came when Boeheim was hit with technical fouls and ejected in the closing seconds of a tight game at Duke, all but sealing the game for the Blue Devils.
Neuman, who has followed Boeheim closely for over a decade, was not among the detractors of the longtime Orange program head.
"He's unique in that he's not afraid to speak his mind," Neuman says. "That outburst, to me, showed how intense he is about it, how he has his team's back."
Neuman's focus is on Syracuse with March Madness approaching, but watch for his name in other areas of the site once the tourney comes to a halt.
One of his prime influences is Bill Simmons—a loyal fan to certain teams, but knowledgeable across the spectrum—and he's likely to make a run at another FC role in the coming months.
"Sportswriting is something I've known I wanted to do for a while now," Neuman says. "I've gained a lot of experience here, and I'd like to get into covering various topics as I keep going.
* * *
Visit Justin Neuman's profile page to check out his Bleacher Report writing. Follow him on Twitter @JustinNeuman10.
Casey Crowe is Bleacher Report's Featured Columnist Coordinator. Here is more information about the FC program.