Bleacher Report writers busy, productive in June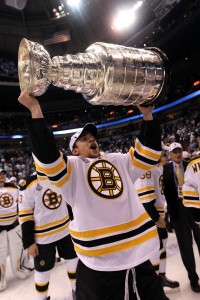 June is an interesting time in the sports calendar. The NHL Stanley Cup Finals and NBA Finals come to an end, right before everyone looks to the future with the MLB, NBA and NHL drafts.
Bleacher Report writers had a great June, getting press credentials to the Stanley Cup Finals and the NBA Draft, sitting next to some of the biggest names in sports journalism. B/R also had an increasing presence in MLB press boxes, and continued its heavy coverage of mixed martial arts.
Some highlights from the month:
Joel Prosser covered the Nicholas Goss wrote about the games played in Boston.
Paul Kasabian covered the NBA Draft and published pieces about media day interviews with the top three picks, Kyrie Irving, Derrick Williams and Enes Kanter.
Similarly, Tom Schreier was able to land one-on-one interviews with, among others, three of the top four players taken in the NHL draft: Ryan Nugent-Hopkins, Gabriel Landeskog and Adam Larsson.
Drew Laing covered the IMG Madden 7-on-7 Championships in Bradenton, Fla., an event that features some of the nation's top college football prospects. It's the kind of coverage that's all but impossible to find except behind paywalls—and at Bleacher Report.
The highlight interview for the month may have been Eli Marger's chat with Johnny Damon, who talked about how thrilled and humbled he was to be poised to pass Ted Williams on the all-time hits list.
Bleacher Report appearances in other media included Joe Penkala talking college football and the aforementioned Kasabian talking about the NBA Draft on "Wake Up Call" in Eugene, Ore., Doug Brodess chatting about the NBA Finals on "The Paul Swearengin Show" on ESPN-Fresno and, on video, Roy Burton bellying up to the bar on CSN Philadelphia's "Lunchbreak With Rhea Hughes."
Our guest columnists included baseball players Brandon McCarthy and Dirk Hayhurst, longtime sportswriter and author Robert Lipsyte, TV host Jenn Sterger, former Philadelphia Eagles acting general manager Susan T. Spencer and Bicycle Magazine editor Peter Flax, who set up the Tour de France.