How to approach perfection: Proofread, then do it again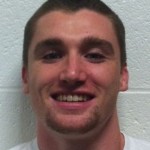 There's a fine line between confidence and stubbornness in the field of writing.
I want to believe everything I produce is top-of-the-line writing, but I also know that my first draft of a piece will never end up as my published article.
It will just never happen.
As I've come to realize through the Bleacher Report Sports Media Internship, the key to perfection in writing (or as close to it as possible) is proofreading.
And then some more proofreading and then some more. Maybe a snack break and then another round of proofreading.
Sure, it's tedious to read the same content four or five times in a row, but the benefits of finding even the most minuscule errors make it worth it.
There are plenty of mistakes to be found, and there is almost always room for improvement.
I've come to develop a system of proofreading that I find very helpful and maybe you will too.
I read silently through my draft three times, one directly after the other. There is no need to rush through it.
Next, I read it aloud a couple of times. The mistakes you will find after verbally reviewing the work are astonishing. Awkward phrases pop up when reading the work out loud. I sometimes ask myself, "Did I really write that?"
This internship has taught me that, specifically in sportswriting, if a digit is off or a name is spelled wrong, all credibility could be lost.
I suggest all aspiring sportswriters put in the extra time and effort to ensure your articles are as close to grammatically, stylistically and statistically correct as possible.
Perfection could be a typo away.
* * *
Matt Metzler is in the Spring Class. Follow him on Twitter @MattyMetz03.
One Thing You Need to Know is a series in which we ask our interns to write about just that: One thing they've learned in the B/R Sports Media Internship that they would pass along to other aspiring writers.
* * *
See also:
Proofreading: It's a lot more than that one last read
Internship Insider: How to proofread betterer